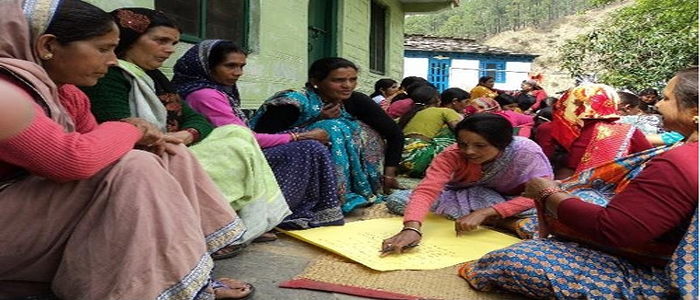 1) Business strategy:-
The business strategy of the Bank shall continue aiming at interacting social development with commercial success for institutional sustainability necessary for expending outreach. It shall expand access by the poor and near poor at the semi- urban around the location of the branches of the Bank. While the bank shall aim at expanding its Operating. Improving market share covering uncovered areas and growing in real terms, but at the same time. It will focus on managing if for financial. Success to ensure sustainability and the social outreach by following sound financial management policies. The financial viability and client outreach has to advance hand-in-hand. While on the one hand. We have to provide quality service to the borrowers and maintain multi-faceted relationship with micro entrepreneur; on the other hand we have to remain competitive. Maintain good portfolio quality and most importantly keep recoveries at 100%.
1- Objective:-The main objective of the micro finance activity being creation of employment and income through promotion of micro enterprises especially by women and other proper and weaker sections to uplift such people from poverty, the focus of the lending policy is on the following:-
1) Provide secured based, short term, income generation loans.
2) Hassle free and easy application process.
3) Timely disbursements.
4) Friendly service with cooperation.
5) Treat micro finance as a process rather than an isolated event and maintain permanent relationship. With the client and inspiration for domestic banking business to inculpate the saving habits by opening of saving and Recurring Deposit A/Cs.
As a policy, the micro entrepreneurs will be provided not only credit, but the training and technical guideline needs of the members would also be kept in view.
2- Lending Procedures:-The lending procedures have been divided into three phases as under:-
a) Pre-loaning phase.
b) Loaning phase.
c) Post-loaning phase.
3.1- Pre-loaning phase:-
a) Selection of operational area and its survey:-
Pre-loaning phase involves selection of operational area and its survey. In this connection, it may be maintained that based on the selection of operational area and its survey, Branches have already been set-up and the micro credit operation shall continue to be carried out in area of operation presently the Vaishali district.
However with a view to making the micro credit operations' more efficient. Productive and cost effective. The focus has to be follow cluster approach in semi-urban/ urban areas. The lending in remote areas i.e. beyond 10 kms of the Branch office has to be strictly avoided. Further each branch/ center shall work in their area already specified.
b) Formation of Groups and its meetings:-
Micro finance is a mix of business and development and hence the bank has to undertake both, financial and social intermediation in an integrated manner of which group formation and training of such groups is the activity precedent to financial intermediation. The formation of JLGs involves various steps to be taken as follows:-
1) Informal meeting in the village/town/muhalla. Introduction of micro credit its aims and objectives and awareness about micro finance.
2) The next stage would be holding focused meeting and clarification of doubts, the group formation. Encouraging thrift and savings among members, explaining the members about nuances of financial discipline, record and account keeping, meeting, duties and responsibilities of JLGs members and their functioning.
Joint liability Group (JLG):-
| | | |
| --- | --- | --- |
| Sr. No | Description | JLG |
| 1 | Purpose | Credit |
| 2 | Membership | 4-10 |
| 3 | Meeting Frequency | Weekly |
| 4 | Liability | Group liability enforced |
| 5 | Waiting period for loaning | One week after formation |
c) Operation of the JLG Model:-
A JLG will jointly have 10 members in the JLG Model day to day activities will be as follows:-
1st Day:-Informal meetings, introduction of the Bank purchase of register by the group.
2nd Day:-
1) Group formation.
2) Preparing record.
3) One group member to be nominated as a Group Leader.
Than for next 3rd Days there will be training for each group-Day time & place of meeting would be fixed in advance. During these 3 days training the entire procedure of membership, group meetings, discipline conditions of loans. Repayment, utilization and all other aspects will be explained. The training and compulsory attendance is to create discipline among the members and provide full information of them about successful operations of the group.
d) Group Recognition Test:-
Group Recognition Test (GRT) is an important tool for identification of borrowers and to fulfill the requirement of Reserve Bank of India (RBI) in connection with Know Your Clients (KYC) norms. The purpose of this test is to physically verify the details about each member, whether she belongs to the area, their social-economic status, their enterprise/ main economic activity etc, this test is to be undertaken by the branch manger and after visiting the house of each member starting with the house of the group leader. During verification, the branch manager will secure agreement of the husband as guarantor of the female member. This test will help in detecting cases of dual membership which will be avoided. Once the field staff is satisfied about the Genaines of the members, formal groups would be formed. The manger may also physically verify about 25% of such cases. Format of GRT report is enclosed as Anjexure-1.
d) Baseline about the member:-
JLG members will also have to produce proof of residence by way of voter ID or ration card or any other accepted mode and also have to submit to 4 passport size photographs. A format for baseline is enclosed as Annexure-2.
3.2 Loaning phase:-
3.2.1 Target Groups:-
The target groups are poor women clients of both the rural and urban areas. Such women would include small and marginal farmers, landless, women, owning small business, artisans and self- employed in the unorganized and services sector and other disadvantaged groups.
3.2.2 Borrowers Eligibility:-
Besides falling in the target groups, to be eligible for micro credit assistance from the Bank.
a) The Borrowers should be:-
• Member of a joint liability groups (JlG).
• Between 18-50 years.
• Residents of the area (proof like voter ID card, Aadhar card etc. needed).
• Accepting the rules and regulations.
• Regular in depositing borrowings.
• Regular in attending meetings.
b) The Borrowers should not be:-
• Having dual membership of any other group.
• From a JLG one family member allowed no lending to more than one member of a family.
• An unmarried woman.
• A person having been convicted under any law.
• In default to the any Bank, any kind cooperative credit facilities MFI form where they have availed loans.
3.2.3 Lending Methodology:-
At present lending in bank is share linking to individuals and groups of the borrower. This approach has to be phase out. Bottom up and participatory approach will be adopted for financial inclusion of clients. The main approach would be to follow the group lending strategy and, as such, loan should be granted to individual who are members of the JLGs.
The future goal is to follow an idea of group model in to JLGs itself, who will identify the borrower and the enterprise, disburse the loan, monitor utilization and progress and recover and return to Bank.
3.2.4 Loan Eligibility:-
As mentioned in Para 3.2.3 above under "Lending Methodology", Loan would be granted to individual members of JLGs. Unmarried women and age over 50 years will not be eligible for loan. Prior credit performance will be an important consideration. The general policy will be to advance small size. Character Based. Short term income generation loans. Keeping in view the following factors:-
• Purpose of loan.
• Borrower's cash flow and her debt and repayment capacity.
• Client's relationship with Bank.
2nd Loan:-
As a loaning policy, the preference should be given to the existing members, who have good loan track record over the new members. The loan should be as per the actual need of the borrower. There should be neither under financing nor over financing, but borrowers repaying capacity has to be kept in view and the project needs to be properly assessed, as some times the borrower may express higher need that what he can absorb. The crucial judgment would be about the clients' ability to repay. For which a thorough scrutiny of the proposal, existing mean of borrowers. Present purpose of loan, expected earnings from the same etc. need to be looked into at the time of appraisal.
3.2.5 Purpose of Loan:-
a) To begin with, loan will be granted for existing and new income generation activities which enhance earnings, increase employment.
b) The purpose of loan will be both for working capital and asset creation.
c) For the time being, income generation activity will cover both 'on farm' and 'off farm'. Such activities are categorized as follows:-
1) Farm Loans:-
• Purpose of inputs (like seed, fertilizer etc.).
• Asset creation.
• Redemption of mortgaged land or other assets.
2) Allied Farm Activities:-
• Dairy.
• Animal Husbandry.
• Poultry.
• Fisheries.
• Horticulture including fruit and vegetable production floriculture etc.
• Other.
3) Non- Farm activities:-
• Micro Enterprises.
• Small Business.
• Services including repair shop.
• Self employed home base activities.
• Trade.
• Vending.
• Shop keeping etc.
• Cottage/Village industries.
• Foodland agro processing/primary processing artisan/handicraft/handloom etc.
Preferential Treatment:-
Old clients, who qualify for repeat loans, shall be given preference over new clients
up to 50000 to each Borrower of the concerned group.
3.3 Processing of loan applications:-
a) Before taking up any application for sanction of a loan, it must be ensured that:-
1) Groups have been properly formed.
2) CGT has been done for a week.
3) Groups Recognition test has been conducted by visiting each borrower's house hold.
4) Proper registers of the Groups are being maintained.
5) Regular meetings of the group are conducted.
6) Proper resolution has been passed at the groups meetings and recorded in the Minutes register of the group for approaching the Bank for loans.
b) The loan applications must be properly to Before taking up any application for sanction of a loan, it must be ensure that:-
1) The loan applications have been filled in properly.
2) No column has been left blank.
3) Photographs of the borrower and guardian are pasted at proper place on the application from.
4) Proper signatures of the borrower and date of application are put on the photographs.
5) Address of borrower is indicated in full with nearby milestone, so that anybody, if required, can reach the borrower.
6) Loan amount applied for is written in figures and words.
7) No cutting is made in application, however, the cutting, if any, has been verified and signed.
8) Full signatures (not initials). Of the borrower/guardian are put on the application from with full names written below the signatures.
9) In case the borrowers who are not able to put their signature, thumb impressions (right hand thumb impression in case of female borrowers and left hand thumb impression in case of made borrowers) have been put on the application, further, name of the person has been indicated below the thumb impression to identify as to whose thumb impression it is and it has been witnessed by some other person.
c) The concerned center manager must put/her comments on the application from to the effect that:-
1) The application has been scrutinized and found to be in order.
2) The borrower is eligible for loans as per the policies of the Bank.
3) The GRT has been conducted, and.
4) The group is functioning properly.
5) He/she recommends the case for consideration for sanction of loan. Considering liquidity, risk and repaying capacity resources of family income.
6) The CM must put his signatures (not initials) after his comments with his full name, name of the center& branch written below his/ her name.